This is a short interview with Dr Maya Nanavati (Occupational Physiotherapist) and her views about Transpact Vestibulator.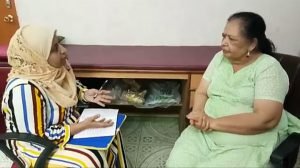 What is Transpact's Vestibulator?
Vestibulator is a compact, fully automated medical device which is ergonomically designed to provide stimulation for vestibular, neurodevelopmental and sensory integration therapy.
These automated and precisely measured stimulations are time saving and more effective compared to manual vestibular stimulations.
Who is Dr Maya Nanavati?
Dr Maya Nanavati is an Occupational Therapist with more than 40 years of experience in Neurology and Paediatric Rehabilitation. She is one of the founders of POSAT foundation (hyperlink to http://www.posatfoundation.in/), a charitable organization which provides rehabilitation and education to physically and mentally challenged children and adults. We are honoured to have her as a Clinical Advisor for Transpact Enterprises.
The Interview:
Hello Dr Nanavati, please tell us more about POSAT-
Posat foundation is a charitable organisation working for the upliftment of physically and mentally challenged children and adults. The trust runs a rehab. centre in Borivali West and special classes for challenged children in Rustomjee International School in Dahisar west and Balbharti School Kandivali West. The Rehab. Centre caters the therapeutic management to the children suffering from cerebral palsy, mental retardation due to any cause including genetic condition like Down syndrome, Autism Spectrum Disorder, ADHD and Learning Disability.
What do you feel about Transpact Enterprises and the Vestibulator?
Transpact had installed the vestibulator at the centre in December 2017 to check its efficacy in the therapeutic management of children affected with different neurological dysfunction. Later on the equipment may be modified for adults needing the management.
The first pilot study was designed to find out the influence of therapy on vestibulator on reflex responses of children suffering from cerebral palsy. The outcome of the pilot study gave positive results. (Reference – Link
http://transpact.in/clinical-study-reports/
)
Luckily, by the grace of God, we could purchase a modified version of vestibulator from a donation under CSR scheme of a company named Play games 24×7 on 29th July 2018.
How do you use Transpact's Vestibulator?
The vestibulator is continuously used for most of the children treated at the centre excluding children suffering from epilepsy. The therapists and the parents of ADHD children and Autistic children have observed a remarkable positive change in their children. The symptoms of hyperactivity and poor attention span reduce drastically with treating the child on vestibulator for 10 minutes during the regular sensory integration therapy session. About 80 children attending the centre are treated on vestibulator in last ten months.
Will you continue the use of Transpact's Vestibulator in future?
Yes, We are awaiting further modified equipment within a month or so which will enable us to carry out scientific studies on the influence of Vestibulator on children with Autism, ADHD and Learning Disability.
We indeed congratulate Transpact and wish the company all the best for the success in launching Vestibulator in open market.